In an effort to give of myself, I'm going to periodically offer pens for sale, in which the proceeds will go towards charities and non-profit organizations. These pens are prototypes and simple designs that will be offered at a reduced price, with 100% of the profits donated to various organizations. Each of these comes equipped with a steel nib in your width of choice and a converter. If you wish to have a gold nib, the price of the pen will increase accordingly. Please email me with any questions, or to purchase any of these pens.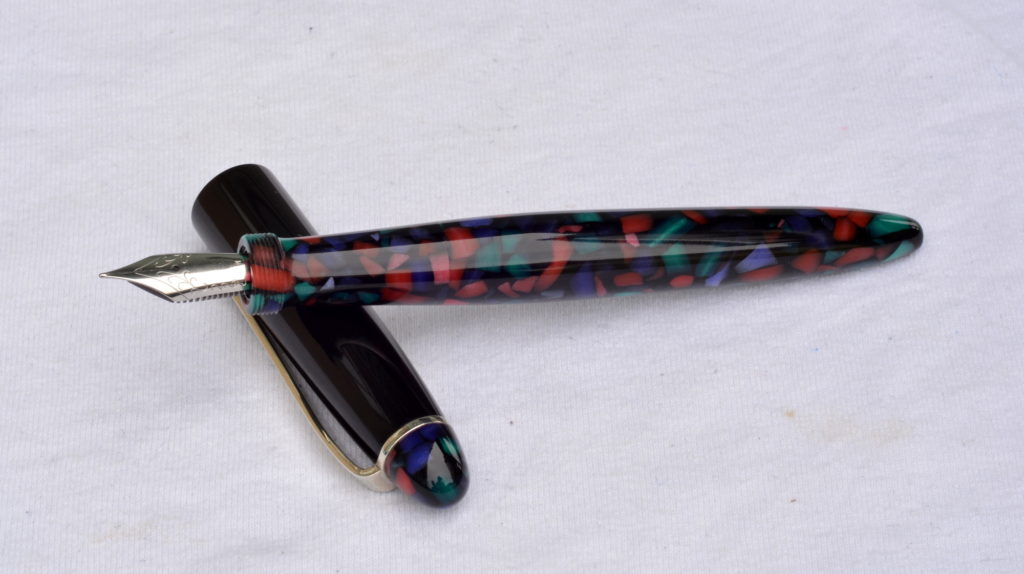 This is the second prototype I made for the forward-threaded design I had been working on developing. It is made out of stained glass acrylic and black ebonite. It has a handmade nickel silver clip, and uses a #6 nib. This pen is cartridge/converter/eyedropper filled. The price for this pen is $225, and the proceeds from it will be donated to the ACLU (American Civil Liberties Union). Please email me, romuluspens@gmail.com for questions or to purchase this pen.
This is a nice, chunky little pocket pen I made from Neon acrylic, with a black acrylic section and threads. This was a prototype for a pocket pen design. It uses a #6 nib, and due to its length, is eyedropper or short cartridge fill only. It, of course is, postable in order to provide a comfortable writing experience. This pen can be purchased for $150, and includes a still nib in the width of your choice. Email me at romuluspens@gmail.com with questions or to purchase.