Thanks to the rising popularity of pen turning, there has been a vast increase of available acrylic, alumilite, ebonite, and other quality pen blanks. While a gallery of available  pen blanks is far too expansive to put on here, these vendors offer a great selection of blanks that can be used for your custom pen.
Exotic Blanks : A great selection of acrylics and alumilite
Beartooth Woods : More Acrylic and alumilite blanks
Vermont Freehand : A great source for ebonite and high-end acrylics
I am open to most any material of your choosing, provided it possesses the necessary structural integrity required for a pen. If you already own a particular blank you would like to use, I will gladly consider it.
Vintage Materials
I also own a small stock of vintage cellulose acetate and can use it for your pen. This material is quite rare, and carries various additional charges depending on the amount used in the pen in question:
Full pen made from vintage celluloid: +$50
Acetate barrel only: +$25
Acetate section or cap finial: +$10
Note: these rods and tubes were produced in smaller sizes, unlike most modern pen blanks, which are very generous in size. Consequently, pens made from these materials are subject to the size constraints of the material. In general, the largest of these materials can yield a pen (matching cap and body) that has a maximum barrel diameter of about 13mm and cap diameter of 15mm. Please contact me at: romuluspens@gmail.com with any questions or inquiries regarding vintage materials. Here are some samples of available stock.
Lizard Skin tubes: These are very popular patterns. They average around 13.5mm in diameter, and are therefore really only limited to use as barrels of pens, so a cap of a contrasting or similar colored material is required.
Left to right: Green multicolor, grey, magenta/red, blue, green, and black w/red lines
Other Tubes:
Left to right: Gray lined, red lined, red/copper flake, pink chunk, blue chunk, blue lightning, blue lined, blue/gray chunk, gray chunk, gray/black chunk with red lines, gold chunk.
Rods: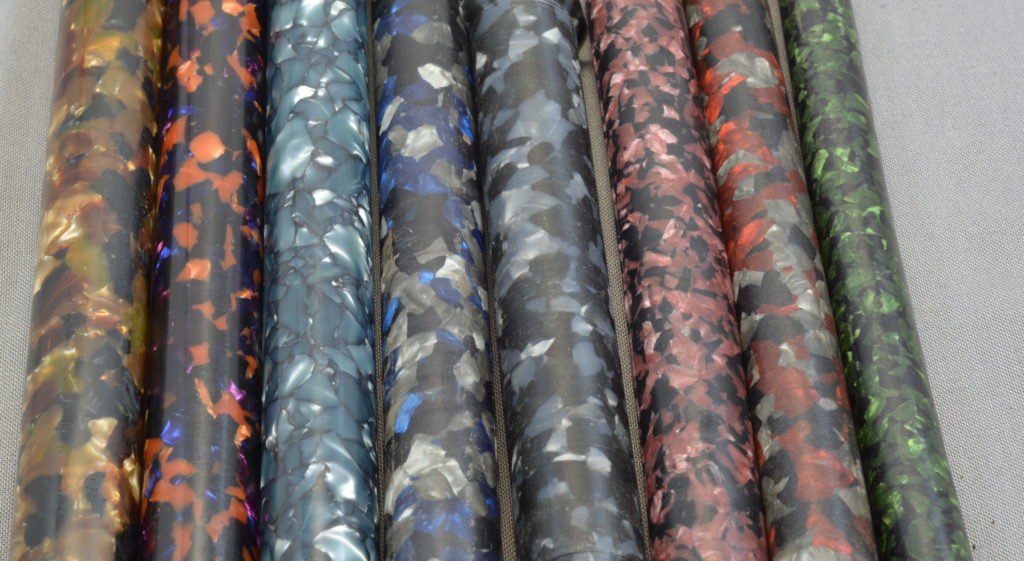 Left to right: green/black/brown Cebloplast, "celebration" cebloplast, blue pearl cebloplast, blue/gray/black chunk acetate, "black granite" Cebloplast, red-purple/black chip acetate, red/gray/black chunk acetate, green/black chip acetate.